This is a collection of testimonials from my past clients.
Hi Isaac,
If you can recall I am looking for a condo here in California. Unfortunately I happen to hire a realtor who is in business for herself and not for the clients. I asked for comps, HOA information and never received the information that I requested. She told me that the sellers agreed to repair items that the inspector recommended and I told my realtor I don't want verbal agreement I want it in writing. She even wrote down the wrong address on the documents that I signed and good thing I caught it. What a nightmare! It is realtors like her that gives good, honest realtors bad reputation. Luckily I came across you. You make me believe that there are still some integrous, honest realtor who are in business because they want to help their clients. This experience in California makes me appreciate you even more. I just wish you are my agent here. I know without a doubt that you have my best interest and not somebody who wants to make a quick sale.
I plan to move back to Seattle after my parents head to the Philippines to retire. Hopefully in 5 years. When I return, you are the only realtor that I will work with to purchase a home there. Thank you for being an honest, integrous, and hardworking realtor! You are one of a kind.
Have a wonderful weekend,
L
-Email From Past Seller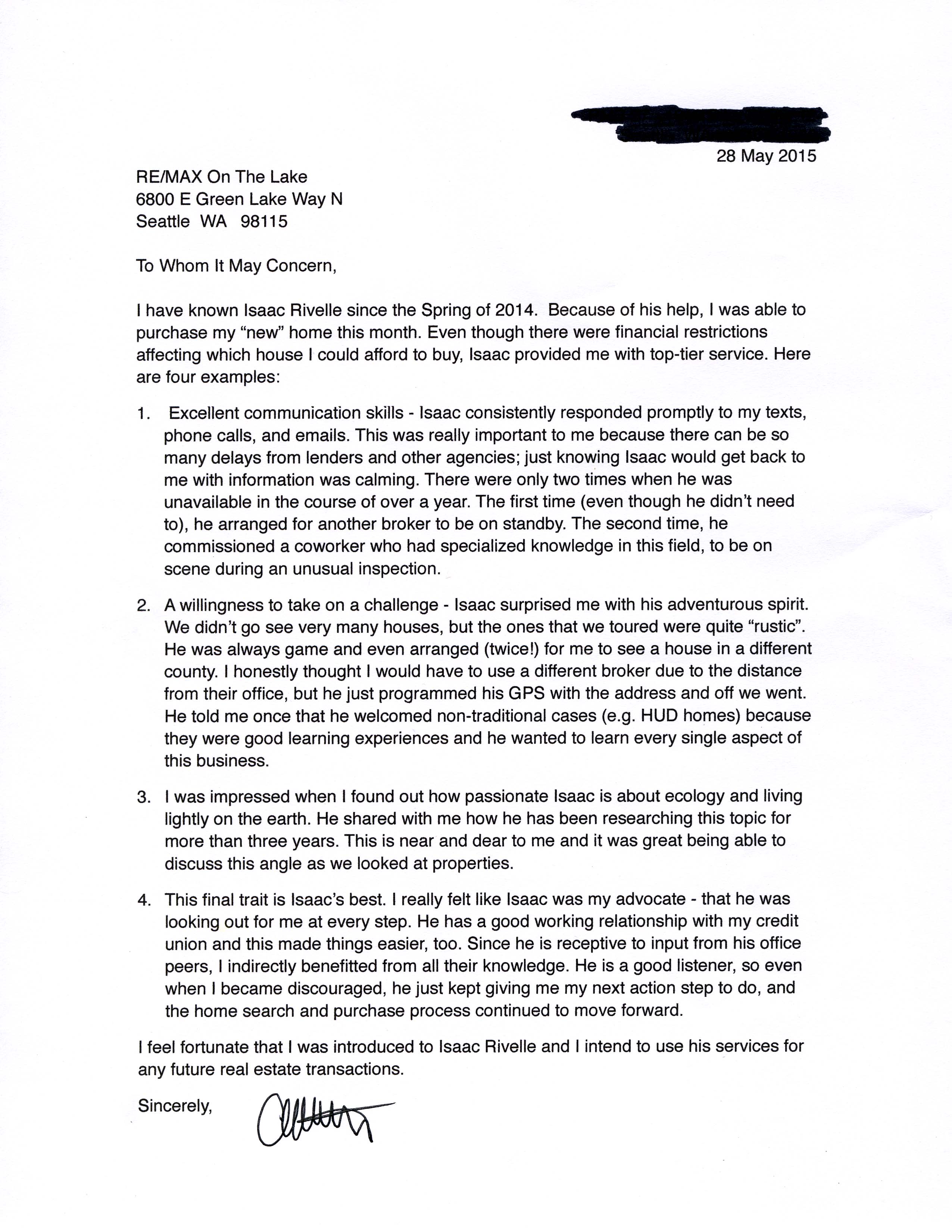 I'm so pleased that Isaac was my agent in the purchase of my new condo. When I started looking I knew in my mind exactly what I wanted. Well, the housing market in Seattle is a little thin right now, there's just not much coming on the market. Never once did Isaac try to rush me into buying something that wasn't perfect for me, or steer me towards something that would mean a quicker deal for him.
Being a young single buyer, other agents I've worked with never seemed to understand what I wanted. They're usually much older and used to selling to older couples and would push me towards things that just don't matter to me, or pick out listings to go look at based on criteria I never mentioned. I wanted a large place in a good location. Isaac seemed really in tune to what I desired. He genuinely listened to what I said, even down to my preference in kitchens and flooring. I think anyone with specific tastes would do well to use Isaac as their agent.
He showed me a bunch of units to start off with to get a solid idea of what I was looking for and then we waited. And waited. And waited. He was soooo patient and after waiting so long I began to despair of ever finding what I was looking for. But Isaac was really supportive and assured me it would happen, convinced me not to compromise, and eventually our waiting paid off. A place went on the market on a Wednesday night, we saw it on Friday morning, by Friday afternoon Isaac had a complete comp report so I could decide what I wanted to offer, and the offer was turned in by Friday night. So fast! There were quite a few offers in on the place but ours beat them all! Isaac is really good at coming up with creative ways to make an offer more competitive and not just by throwing tons more money at it like I know other agents will recommend. I didn't have endless amounts of money and he got that.
He was really supportive through the whole process; he answered all of my questions with alacrity (even the dumb ones), and used the latest technology to make the paperwork really smooth and easy. There was never a single delay and we closed less than a month after putting in an offer.
Now I'm the owner of a wonderful new home and I couldn't have done it without him!!-Via Zillow
Isaac Rivelle helped my husband and I find the perfect house! It was a long process because we couldn't find exactly the right house in our (meager) budget, but he did it! We dragged him all the way from Mountlake Terrace, to Bremerton, to Puyallup and Spanaway, and we finally found the right place for us in Tacoma. He seriously went the extra mile, especially in dealing with a HUD owned property, which we learned is not as simple as a normal resale. When little things came up that would have bogged down the closing process, he stepped up and took care of the issues, sometimes without us even knowing there *was* a potential issue. It was seriously impressive. You're our hero, Ike!! -ND-Via Facebook
Isaac is awesome! He took us around different cities looking for the perfect single family home, and really cared about what we were looking for. There was no upselling or pressure at all, he really focused on finding the perfect place for our family within our price range. All of the paperwork was done electronically, super fast, and pain free. That was about the least stressful home purchase in history. 10/10 would house hunt with him again.-Via Linkedin